Men's 2017 Fashion Trends
Men have it just as hard as the ladies with fashion trends continuously changing, which proves to be hard on the pocket. Luckily for men is the 2017 trends incorporating many of 2016 trends. Here is how you can keep up to date and also be fashionable wearing the previous year's trends.
Checks
Men have been wearing checks for centuries and in 2017 it is no different. Men will see designers starting to apply checks in more than only plaid shirts, but also bomber jackets, trousers, T-Shirts and knitwear. If you have checks from 2016 in your wardrobe you can wear it with confidence as you saw with Prince William of Wales with check blazer.
Printed T-Shirts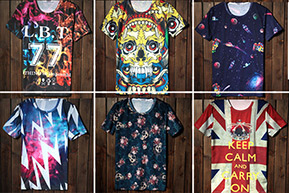 Slogan T-Shirts under a flannel shirt and top it off with a distresses denim jacket is a big 2017s trend. Printed T-Shirts are in and in the summer you will see plenty with graphic and simple colours if you are worried about freaky slogans.
Retro Sportswear
Over the last seasons retro sportswear has been a huge trend while 2016 saw a carrying over from 1980's styles men will find that in 2017 retro style sportswear reminds them of the 1970s. Anything in subdued colours you have left from 2016 however can still be worn in 2017. The key pieces every fashionable man should own includes tobacco brown chevron prints or burnt orange in luxury fabrics that does not neglect on its detail. Drawstring trousers, zip up nylon jumpers and matching two-piece tracksuits must be in those colours with fine detail if you want to be trendy in 2017. Wearing a 1970s style vintage leather bomber jacket with the rest of your sportswear and you will make a statement of note.
Neutrals
If you wardrobe is filled with 2016s neutral shades you are fortunate as it is a huge fashion trends for 2017 to anchor vibrant colors. The current neutrals are earth-tones and great for adding spicey hues and saffron yellow during spring and summer months.
Wide legged trousers
Yes relaxed wearing continuous to be "in" from trousers, hoodies and coats. Even though it was rising slowly it is said to reach its peak in 2017. The best way to pull it off is starting with wider fit denim pants with brogue boots and woollen top.